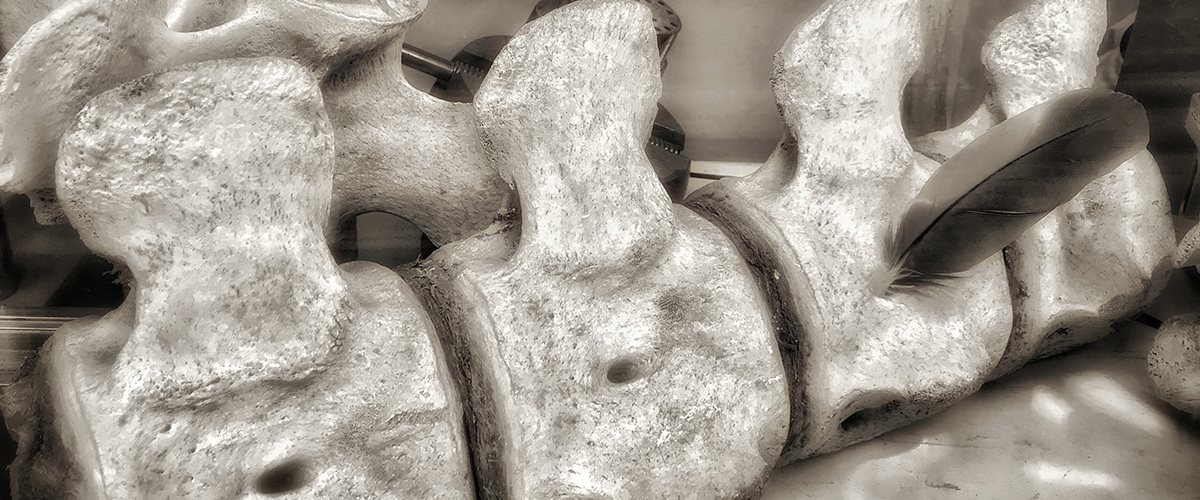 Yoga for Strong, Resilient Bones – Asana and Osteoporosis
Tuesday 14 May–Wednesday 15 May 2019
Studio Yin Kauniainen
10.00–12.30 & 14.00–16.30
255 € for two days
A workshop exploring the wonders of your bony architecture.
Our bones give us shape and line and form. We sculpt space and carve time as we move through our bones. Bones offer us direction, clarity and intent. Through our bones, we are in constant conversation with gravity as we rise and fall in an ongoing dance with gravity, all sequenced through our living bones.
As we practice yoga through the original blueprint of the spiral lines within our bones, formed as an embryo, we find new pathways through the the limbs, to offer length and decompression to the spine.
By looking at the simple anatomy and layers of bone, together with the principles of bone remodelling, our asana practice becomes effortless and light. Filled with grace, ease and poise, building strength and integrity in the bony form.
In working with standing asana and supported partial standing poses as our foundation, we acknowledge the felt relationship of bones with rocks; the bones of the earth. By looking at photographic images of the landscape, we embody the echo of bone-rock-gravity in yoga.
The rocks of this planet echo the bones in our own body. Our body has its own canyons, ridges and escarpments. When we touch rock, our bones vibrate in resonance. Sister tissues, they love each other.
Expect to come away with a new relationship with your bones in yoga practice and fresh, functional and poetic ways of imagining the body landscape. All generating strong resilient bones.
This workshop is suitable for all levels of practitioners.
This workshop is taught in English, but interpretation into Finnish is available where necessary.
---
Tervetuloa tutustumaan luustomme ihmeelliseen arkkitehtuuriin!
Luusto antaa meille muodon ja luuston kautta kautta käymme jatkuvaa vuoropuhelua painovoiman kanssa. Luusto on meille ihmisille samaa kuin kalliot luonnossa.
Tässä kahden päivän työpajassa tutustutaan luuston rakenteisiin ja siihen, miten painovoimaa ja luiden luontaisia spiraalilinjoja hyödyntäen – varsinkin seisoma-asennoissa ja tuetuissa seisoma-asennoissa – joogan asentoharjoitus kevenee, liikkuvuus paranee ja painovoimaan suhteutettu harjoitus lujittaa luitamme.
Työpaja sopii kaikille; aiempaa tietämystä tai kokemusta ei edellytetä.
Opetus on englanniksi mutta tulkataan tarvittaessa suomeksi.
Australian-born Narelle has an almost 20-year background in the practice and teaching of Iyengar yoga and is one of the few yoga teachers specilised in yoga for the asymmetric spine. Narelle has taught yoga for scoliosis and backcare in Elise Miller's and Donna Farhi's teacher training courses and has taught in New York City, San Fransisco, Europe, the United Kingdom, New Zealand, and of course in her native Australia.
An Anatomist by formal academic training and research, Narelle has taught functional anatomy for pre-medical students at Queensland University of Technology. In her own post-graduate research, Narelle examined balance, recovery and postural stabilisation in elite-level dancers with low back pain, delving deep in the functional anatomy and pathology of the lumbar spine, pelvis and sacrum, as well as the neurophysiology of postural control.
A photographer, writer and dancemaker, Narelle seeks to offer the yoga practitioner important kinaesthetic information through embodied experience, supported by image and metaphor, transforming and healing the yogi's relationship with the body-land and our greater ecology. She slow travels as a chosen way of life
Read more about Narelle on her website
Narelle Carter-Quinlan on johtava selänhuollon kouluttaja ja asiantuntija. Hänen erikoisalaansa on selkärangan epäsymmetria ja skolioosi, josta hänellä on omakohtainen kokemus. Narellella on pitkä tausta tanssissa, iyengarjoogassa ja toiminnallisen anatomian opettajana yliopistossa Brisbanessa Australiassa. Jatko-opinnoissaan yliopistossa Narelle tutki tanssijoiden alaselkäkipuja ja ryhdinhallinnan neurofysiologiaa. Jooganopettajana Narelle on ollut erikoiskouluttajana muun muassa Donna Farhin ja Elise Millerin koulutuksissa sekä Yoga Union Centre for Backcare and Scoliosis -koulutuskeskuksessa New Yorkissa. Narelle on myös valkuvaaja, tanssija ja kirjoittaja.
Lue lisää Narellesta hänen verkkosivuiltaan
Narelle has provided the following links to short audio meditations so that you can have a taste of her voice, energetic and the work. Simply click the link, and enjoy.
Headphones or earbuds are recommended for best quality.
___
Alla linkkejä Narellen nauhoittamiin lyhyisiin opastettuihin meditaatioihin. Niitä kuuntelemalla saat tuntuman Narellen opetustyylistä.
Narelle suosittelee, että meditaatiot kuunnellaan kuulokkeilla. Näin niistä saa parhaimman kokemuksen.
Orienting in Space – 5 minutes
Holding a Human Vertebra – 9 minutes
The Fluid Field – 6 minutes
A Walking Meditation – 4.5 minutes
Breathing – 7.5 minutes
Sensing The Spine – 10 minutes
Enrolment
Please email eija@studioyin.com to enrol.
After you have received an email confirmation of your place on the course, please go to our online store Holvi to pay 50% of the course fee (127.50 €) to secure your place.
Please pay your outstanding balance of 127.50 € by 6 May 2019.
If you enrol after 12 April 2019, the full course fee of 255 € is payable upon enrolment.
Cancellations are accepted only against a medical certificate or you can give your confirmed and paid-up place to someone else, subject to agreement with Studio Yin.
All cancellations are subject to an administration fee of 30 €.
---
Ilmoittautuminen
Ilmoittaudu kurssille sähköpostitse osoitteeseen eija@studioyin.com
Kun olet saanut vahvistuksen paikasta kurssilla, maksa Studio Yinin Holvissa 50 % kurssin hinnasta (127.50 €) varmistaaksesi paikkasi kurssilla.
Maksa loppuosa 127.50 € 6.5.2019 mennessä.
Jos ilmoittaudut kurssille 12.4. jälkeen, koko kurssimaksu maksetaan ilmoittautumisen yhteydessä.
Peruutukset hyväksytään vain lääkärintodistusta vastaan tai voit antaa maksamasi paikan kurssilla toiselle henkilölle sopimalla asiasta etukäteen Studio Yinin kanssa.
Kaikista peruutuksista veloitetaan toimistomaksu 30 €.
---
Please note: Narelle is also offering a complementary 2-day course on Scoliosis and Back Care on 12–13 May 2019. You can attend both the osteoporosis and the scoliosis & back care workshop at a reduced rate of 450 €.
---
Huomaa myös rinnakkaistyöpaja: Narelle pitää 12.–13.5.2019 kahden päivän työpajan aiheesta Scoliosis and Back Care. Voit osallistua molempiin eli selänhuolto- ja skolioosityöpajaan sekä osteoporoosityöpajaan yhteishinnalla 450 €.
---
Venue / Kurssipaikka
Studio Yin Kauniainen
Kauppakeskus Grani 2nd floor / 2. krs
Tunnelitie 4
02700 Kauniainen