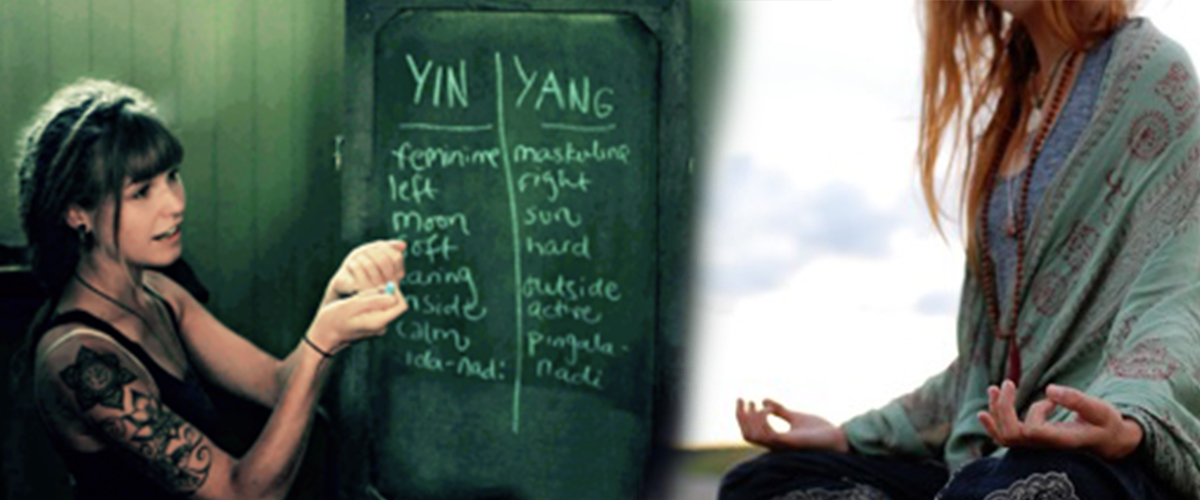 3 workshops with Amanda Holmström
Saturday 2.12. at Studio Yin Kauniainen
11.30–13.30 Sweet & Spicy (Yin and Yang)
14.00–16.00  Pranayama and Restorative / Restore the Nervous system
Sunday 3.12. at Studio Yin Helsinki
14.00–16.00 Gratitude Yin Yoga / Yin Yoga to cultivate an attitude of gratitude
---
Sweet & Spicy (Yin and Yang) workshop
As the days keep getting colder and darker it's time to spice it up with a series of heat building, creative yang yoga (vinyasa) and savor the sweetness of calming, grounding yin yoga to enter a balanced state in mind, body and heart.
This two hour workshop consists of physical practice of finding balance with oppositional forces. Beginning with a yin yoga practice to open up the body and create more space for prana, vital life force energy, to flow, followed by a series of yang postures to enhance the movement of this creative energy.
Release blockages and stagnation. Experience awareness in the breath and in the body as you invite the present moment to be your focus, setting the stage for yourself to create balance and winter time wellness.
Saturday 2.12. 11.30–13.30 Sweet & Spicy (Yin and Yang) at Studio Yin Kauniainen / 25 € or Yin card + 10 €
---
Pranayama and Restorative
Restore the Nervous system
Do yourself a favor and indulge in a two hour restorative yoga practice including pranayama to recharge and restore your nervous system.
The state of your nervoussystem is directly linked with your overall sense of wellbeing. Learn techniques that can help you stay grounded during winter and recover from business. Tap into the parasympathetic nervous system, responsible for resting and digesting, not only digesting food, but enhancing the ability to digest thoughts, emotions and all the input through our senses.
Switch from "doing-mode" and step into "being-mode", as restorative yoga is a highly receptive practice. Using props and support as we stay in poses for longer periods of time to have a therapeutic effect on the physical body as well as the subtle and energetic body, grounding and recharging with ancient yogic wisdom.
Saturday 2.12. 14.00–16.00 / Pranayama and Restorative workshop at Studio Yin Kauniainen / 25 € or Yin card + 10 €
---
Gratitude Yin Yoga
Yin Yoga to cultivate an attitude of gratitude
Give yourself the gift of cultivating gratitude as we enter the holiday season. A time of year where we easily stress around too much, forgetting what it's all about, easily thinking we "need more"… Give yourself permission to slow down and turn inwards. Transition your awareness to the heart center and to all that there is to be thankful for that we easily take for granted in the common belief of "needing something else" in order to be enough.
There is enough and more than enough to be grateful for, regardless the situation, even at times when things might not be as we wish they were. Give yourself the gift of being honest, accepting and trusting that all is strengthening and eventually nurturing.
This workshop includes, yin yoga poses, a series of heat building, heart opening yang poses as well as a gratitude meditation to seal in the benefits from the practice.
Sunday 3.12. 14.00–16.00 / Gratitude Yin Yoga workshop at Studio Yin Helsinki / 25 € or Yin card + 10 €
---
Amanda Holmström
Amanda has a 200 hour RYT in Vinyasa Flow through Frog Lotus Yoga in Spain and has since spread yogic wisdom by teaching classes, workshops and courses worldwide.
She also specializes in Yin Yoga which is a practice very close to her heart. She believes the world needs to balance the gross flux of yang energy that is being produced to create harmony between all things living and nature.
Besides teaching yoga she is a Reiki practitioner and Massage therapist, an eager learner and spends a lot of her time studying to deepen her knowledge.
It is the personal transformation and impact that yoga has had on her own life that keeps her inspired to keep learning, practicing and sharing. Her heart is set on working with people through a holistic approach and to inspire people to see the infinite goodness in themselves.
---
Places
Studio Yin Kauniainen / Tunnelitie 4, 02700 Kauniainen, Kauppakeskus Grani, 2. floor
Studio Yin Helsinki / Urheilukatu 5, 00250 Helsinki
More information: annukka@studioyin.com
Price: 25 € or Yin card + 10 € / workshop
Apply: Digital Booker Kauniainen or Helsinki