Sunday 12 May – Monday 13 May 2019
Studio Yin Kauniainen
10.00–12.30 & 14.00–16.30 on both days
255 € for two days
Your spine is a long curving river. Within the experience of asymmetry, and indeed, in all spinal terrains, it is important to sense the course of the river, the riverbanks, the surrounding country. To encounter the inflow of the tributaries of the limbs, and observe their impact on the course of the river-spine.
In this unique workshop, we will explore the felt experience of asymmetry (however subtle), in the midline of the body. Through careful sensing, you will be invited to know the country and topography of your back as felt, known place. We will investigate the ways in which the active use of the limbs can inform and modify this landscape, generating more easeful energetic flow through the spine as your central, functional axis. A place of cohesion and resilience, fluidity and strength. Through conscious acknowledgement of the organic body and the embryological pathways of both the limbs and spine itself, we will offer your body fresh choices in finding its natural state of grace, balance and ease.
Can Yoga change my back? Yes! You can change the experience, function, and often the architecture of your body through consistent, intelligently applied yoga. You can change the way you move, the way you feel your back, and you can change the way you breathe as you inhabit your body! Expect to come away with playful, yet deep, enquiries that will ignite your curiosity about your spine in the practice of yogasana.
This workshop is taught in English, but interpretation into Finnish is available where necessary.
---
Ihmisen selkäranka on kuin kaarevissa uomissaan kulkeva joki. Vaikka joella on alku ja loppu, yksikään joki ei kulje samalla tavalla, vaan ympäröivä maasto vaikuttaa joen kulkuun ja joki puolestaan muovaa ympäröivää maastoa. Ei myöskään ole kahta samanlaista selkärankaa, ja ihmisen raajat ovat kiinteässä toiminnallisessa vuorovaikutuksessa selkärangan kanssa.
Tässä kahden päivän osuudessa käsitellään selkärangan kaarevia muotoja ja tutustutaan harjoitusten kautta oman kehon keskilinjaan. Avarretaan käsitystä ja omaa kokemusta selkärangasta ja sen puolieroista (oikea / vasen) ja tutustutaan siihen, kuinka raajat ja selkäranka muodostavat aktiivisen toiminnallisen kokonaisuuden, oli skolioosia tai ei.
Työpajassa kysytään: Voiko joogaharjoitus muokata selkääni? Ja vastaus on: Kyllä voi. Säännöllisellä ja älykkäästi sovelletulla joogan asentoharjoituksella voi muuttaa kokemusta omasta kehosta, oman kehon toimintaa ja kehon rakennettakin; voi tasapainottaa puolieroja oikean ja vasemman puolen välillä ja muuttaa tapaansa liikkua, hengittää ja ylipäätään olla omassa kehossa.
Kurssin opetuskieli on englanti, mutta opetus tulkataan suomeksi tarvittaessa.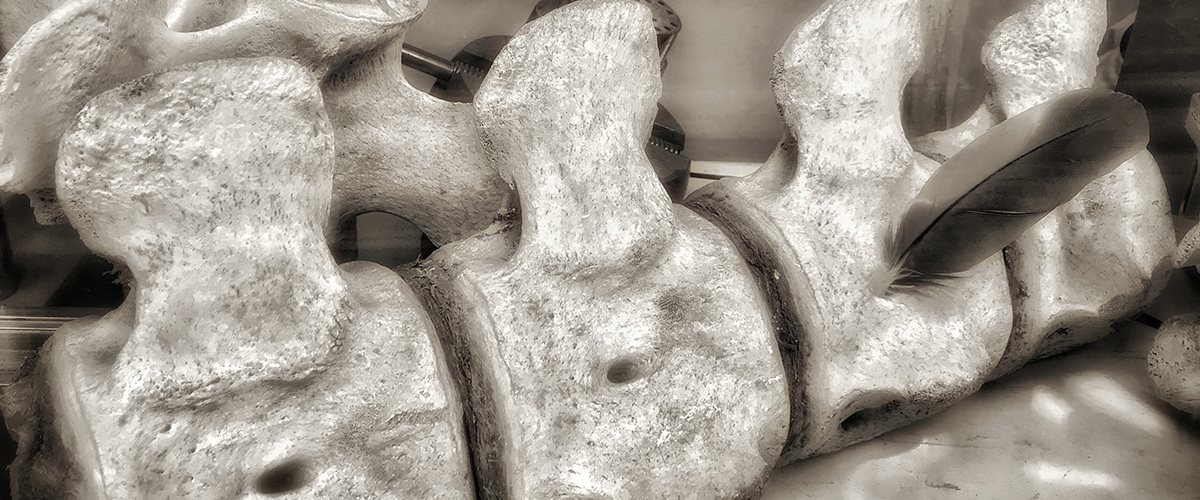 What is scoliosis?
This can be a somewhat tricky question! Essentially, a scoliosis is an asymmetry within the spine, as a three dimensional expression. Sometimes simply referred to as 'curvature' of the spine, scoliosis weaves its path through the three cardinal planes of the body's terrain; (through front to back – travelling the sagittal plane, from side to side – in the coronal or frontal plane, and horizontally – the 'twist', within the transverse plane). Think of it as a lateral curve, with a rotary component, often with a increased lordosis or kyphosis (as the case may be). Like the landscape itself, each scoliotic spine and its ecology are unique.
I'm often asked the 'difference' between a structural versus a functional curve. Simply stated, a structural curve is within the bony architecture itself. Yet all such curves have their 'functional' voice. Perhaps as genesis. Perhaps as effect. Perhaps both. A functional asymmetry, (perhaps arising from the way one inhabits, or uses, their physicality), will, given time and given continued asymmetric use, (and or course, in ubiquitous gravity), generally evolve to a 'structural' asymmetry. Form follows use.
The song of the scoliotic spine is not limited to the bony form. Impact echoes over to respiratory function, cardiopulmonary exercise effects, balance, and kinaesthetic impact, imbalances and facilitation within the nervous and fluid field system, to name a few.
---
Mikä on skolioosi?
Yksinkertaisimmillaan skolioosilla tarkoitetaan selkärangan epäsymmetriaa kolmella eri tasolla: eteen–taakse-suunnassa, sivulta–sivulle-suunnassa sekä vaakatasossa. Skolioosin voi siis ajatella olevan selkärangan muodon muuttuminen kolmella tavalla: kaareutuminen keskilinjasta sivusuuntaan, keskilinjan kiertyminen sekä lannerangan notkon tai rintarangan köyryn suureneminen. Yleisistä tunnusmerkeistä huolimatta mikään skolioosi tai selkärangan epäsymmetria ei ole samanlainen vaan aina yksilöllinen.
Minulta kysytään usein, miten rakenteellinen ja toiminnallinen skolioosi eroavat toisistaan. Yksinkertaistettuna voidaan ajatella, että rakenteellinen skolioosi on luuston arkkitehtuurissa. Kaikilla selkärangoilla on kuitenkin toiminnallinen "ääni" tai "ilmentymä". Henkilön tapa käyttää/kuormittaa selkärankaansa ja toimia koko ajan vaikuttavaa painovoimaa vastaan ajan mittaan muovaa selkärankaa toiminnallisesti, jolloin toiminta alkaa vaikuttaa rakenteeseen.
Skolioosi ja epäsymmetria ei tarkoita vain selkärangan ulospäin näkyviä muotoja. Skolioosi vaikuttaa myös muun muassa tasapainoon, hengitykseen, sydämen ja keuhkojen toimintaan, hermostoon ja nestekiertoon.
To whom is this workshop for?
In essence, this is a workshop for anyone with a spine and who delights in the practice of yoga!
Experience-wise, this workshop is suitable for students with a minimum of six months consistent yoga practice, up to teacher level. Students with back pain are very welcome – with or without spinal asymmetry.
However, please note this workshop is not suitable for those working with current acute spinal injury or pathology.
If in any doubt whether you could attend, please contact us and let us know your situation.
---
Kenelle työpaja sopii?
Työpaja sopii kaikille selän hyvinvoinnista ja joogan asentoharjoituksesta kiinnostuneille.
On toivottavaa, että osallistujilla olisi noin puolen vuoden kokemus joogan asentoharjoituksesta. Joogan opettajat ja opettajiksi opiskelevat ovat erittäin tervetulleita.
Selkäkipu ei ole este osallistumiselle, mutta jos on jokin akuutti vamma, silloin kannattaa olla yhteydessä ja tiedustella, voiko osallistua.
NARELLE CARTER-QUINLAN
Australian-born Narelle has an almost 20-year background in the practice and teaching of Iyengar yoga and is one of the few yoga teachers specilised in yoga for the asymmetric spine. Narelle has taught yoga for scoliosis and backcare in Elise Miller's and Donna Farhi's teacher training courses and has taught in New York City, San Fransisco, Europe, the United Kingdom, New Zealand, and of course in her native Australia.
An Anatomist by formal academic training and research, Narelle has taught functional anatomy for pre-medical students at Queensland University of Technology. In her own post-graduate research, Narelle examined balance, recovery and postural stabilisation in elite-level dancers with low back pain, delving deep in the functional anatomy and pathology of the lumbar spine, pelvis and sacrum, as well as the neurophysiology of postural control.
A photographer, writer and dancemaker, Narelle seeks to offer the yoga practitioner important kinaesthetic information through embodied experience, supported by image and metaphor, transforming and healing the yogi's relationship with the body-land and our greater ecology. She slow travels as a chosen way of life.
Read more about Narelle on her website
Narelle Carter-Quinlan on johtava selänhuollon kouluttaja ja asiantuntija. Hänen erikoisalaansa on selkärangan epäsymmetria ja skolioosi, josta hänellä on omakohtainen kokemus. Narellella on pitkä tausta tanssissa, iyengarjoogassa ja toiminnallisen anatomian opettajana yliopistossa Brisbanessa Australiassa. Jatko-opinnoissaan yliopistossa Narelle tutki tanssijoiden alaselkäkipuja ja ryhdinhallinnan neurofysiologiaa. Jooganopettajana Narelle on ollut erikoiskouluttajana muun muassa Donna Farhin ja Elise Millerin joogakoulutuksissa sekä Yoga Union Centre for Backcare and Scoliosis -koulutuskeskuksessa New Yorkissa. Narelle on myös valkuvaaja, tanssija ja kirjoittaja.
Lue lisää Narelle hänen verkkosivuiltaan
Narelle has provided the following links to short audio meditations so that you can have a taste of her voice, energetic and the work. Simply click the link, and enjoy.
Headphones or earbuds are recommended for best quality.
___
Alla linkkejä Narellen nauhoittamiin lyhyisiin opastettuihin meditaatioihin. Niitä kuuntelemalla saat tuntuman Narellen opetustyylistä.
Narelle suosittelee, että meditaatiot kuunnellaan kuulokkeilla. Näin niistä saa parhaimman kokemuksen.
Orienting in Space – 5 minutes
Holding a Human Vertebra – 9 minutes
The Fluid Field – 6 minutes
A Walking Meditation – 4.5 minutes
Breathing – 7.5 minutes
Sensing The Spine – 10 minutes
---
Enrolment
Please email eija@studioyin.com to enrol.
After you have received an email confirmation of your place on the course, please go to our online store Holvi to pay 50% of the course fee (127.50 €) to secure your place.
Please pay your outstanding balance 127.50 € by 6 May 2019.
If you enrol after 12 April 2019, the full course fee of 255 € is payable upon enrolment.
Cancellations are accepted only against a medical certificate or you can give your confirmed and paid-up place to someone else, subject to agreement with Studio Yin.
All cancellations are subject to an administration fee of 30 €.
---
Ilmoittautuminen
Ilmoittaudu sähköpostitse osoitteeseen eija@studioyin.com
Kun olet saanut vahvistuksen paikasta kurssilla, maksa Studio Yinin Holvissa 50 % kurssin hinnasta (127,50 €) varmistaaksesi paikkasi kurssilla.
Maksa loppuosa 127,50 €  6.5.2019 mennessä.
Jos ilmoittaudut kurssille 12.4. jälkeen, koko kurssimaksu maksetaan ilmoittautumisen yhteydessä.
Peruutukset hyväksytään vain lääkärintodistusta vastaan tai voit antaa maksamasi paikan kurssilla toiselle henkilölle sopimalla asiasta etukäteen Studio Yinin kanssa.
Kaikista peruutuksista veloitetaan toimistomaksu 30 €.
---
Please note: Narelle is also offering a complementary 2-day workshop on Yoga for Strong, Resilient Bones – Asana and Osteoporosis on 14–15 May 2019. You can attend both the scoliosis & back care and the osteoporosis workshop at a reduced rate of 450 €.
---
Huomaa myös rinnakkaistyöpaja: Narelle pitää 14.–15.5.2019 kahden päivän työpajan aiheesta Yoga for Strong, Resilient Bones – Asana and Osteoporosis. Voit osallistua molempiin eli selänhuolto- ja skolioosityöpajaan sekä osteoporoosityöpajaan yhteishinnalla 450 €.
---
Venue / Kurssipaikka
Studio Yin Kauniainen
Kauppakeskus Grani 2nd floor / 2. krs
Tunnelitie 4
02700 Kauniainen