Healing Yoga course
at Studio Yin Kauniainen and Helsinki
has been postponed
3 different workshops: Healing Yoga, Anusara Flow and Yin Yoga
Prices: 65 € per workshop / two workshops 125 € / all three workshops 175 €
---
"As I perform yoga, I practice living by meeting myself over and over again. Yoga is a gift from the first meeting when you light a candle that never burns out. The more you practice the stronger the light will burn. It´s when we slow down as growth within us happens."
---
Healing yoga
Theme: Reduce stress from trauma in body and mind
Healing yoga is a therapeutic form of yoga developed by Jennie Liljefors with focus to reduce and heal the negative effects of trauma in the body and mind, PTSD, stress and burnout. Jennie has based the form on her own experience of healing after a sexual trauma in her youth and her solid yoga study there among an evidence based yoga method against trauma and PTSD (TCTSY, developed at Trauma Center in Brookline, Massachusetts, 2013). She also wrote a book on this theme called "Healing Yoga – The Healing Power".
To heal trauma with the help of yoga is powerful, it's a heroic journey where you can do a great deal of work on your own, but it requires patience. By doing yoga in a safe environment you can be reconciled with yourself. Let the yoga become a new habit, it is strengthening for the self and as we practice we get in contact with our full potential.
The form is a calmer yoga focusing on increasing the parasympathetic nervous system. The focus area is the lower part of the body and therefore fits well when you want to handle emotional stress that causes rigid hips and legs, pain in the lower back and problems with the stomach and reproductive organs. We practice to manage to be totally relaxed and rest in different positions, which gives a different recovery than when you sleep when one often get tense.
If you practice Healing Yoga continuously for at least 6–8 weeks, it may help break a bad circle to get more energy and desire to begin a healing process. You will sleep better, increase poor appetite, improve concentration, increase self-esteem and give less fear. If we feel tired, stressed or suffering from PTSD, sadness, depression, infertility, PMS, menopause or other physical or mental illness, this class is a great tool for recovery and healing.
The class starts with a body scanning, calm and gentle breathing exercises and a meditation to center and to create space for us. Meditation provides a much needed distance to negative thoughts that can block us. As we turn inward, we easier reconnect to the love for ourselves and for life itself. It becomes easier to accept and reconcile ourselves as whom we are so that we can find a more caring and loving way of living in our body. Meditation can also increase our will and power to begin a healing process, thus through meditation we come in contact with our inner selves with helps us feel more courage and strength. Then we continue doing different positions synchronized with the breathing. The focus is on releasing tensions and congested feelings, eliminating negative stress and turning off our internal alarm system.
An important aspect is that the yoga form is based on the knowledge and philosophy of Chinese medicine. Like acupuncture, it increases the flow of life energy in the body's different organs and systems. We finish the class with a gentle rest to come into harmony.
---
Anusara yoga
Theme: Finding new force and courage
Anusarayoga is usually described as "the householder's yoga", a form of yoga that will suit everyone.
Anusara is a sanskrit word and means "follow the flow". Anusarayoga is a dynamic form of Hathayoga with focus on opening up in the heart and body to get in touch with the flow of life-force within us and around us. We want to create flexibility, strength and harmony in the mind and body. Anusarayoga is based on a tantric philosophy where focus lays on seeing the good within us and in our surroundings.
Anusarayoga is also based on a nondualistic perspective, where it is believed that everything is derived from one source and that we all share the same energy. We practice to see the larger perspective where the whole is the most important. Yoga should be part of our lives, we should only be able to add it in, not having to remove anything to perform it and live it, unless there is something that takes us out of alignment.
By applying the five universal biomechanical principles of anusarayoga to align the body, we can achieve a more harmonious posture and allow lifeenergy to flow more freely, helping us to open up our inherent creativity, power and energy. The principles also make the yoga more stable and safe.
In Anusarayoga, we learn to listen to our hearts to discover our innermost longing and seek answers to the eternal life questions: What do I want? How do I want to live my life? Do I walk my hearts path or do I walk the path others want me to go? To work more deep with these questions and to explore how we can integrate yoga into our daily life we use the so-called "Three A's – Attitude, Alignment, Action".
Attitude answers to the question:
Why do I do what I do? What is my intention?
Alignment answers to the question:
How can manifest and live my intention? What knowledge do I need?
Action answers to the question:
How do I perform the task to fulfil my intention?
All three components are important in our daily life and performances, but our attitude/intention is the most important one – the deepest desire in our heart, it is very strong and when we get in contact with it we can feel a rush of force and courage. Once we know what it is it will be easier to life our life and do our job.
The class will start with a centring, mantra and a short meditation, and then we will explore ourselves through the perspective of Anusaryoga. The theme will be: Finding new force and courage. We will end with meditation and a long peaceful rest.
---
Yinyoga
Theme: Heal discomfort in the stomach and digestion problems
Metabolic problems may be difficult to define and often depend on stress, anxiety, depression, sadness, trauma or abnormalities in the stomach and spleen. The problems often lead to poorer digestion, which causes us to become powerless, gives us weight problems, both up and down, and gloomy skin. We can come to feel unsure of ourselves and become generally unbalanced.
By working with poses that massage the internal organs and counter poses that open up and give space in the area, one can get an increased flow of energy and power.
This class suits all and is also a great class to start with if you aren't so use to yoga. We use blankets, blocks and bolster as support to find our optimal blueprint in every pose. You can do this program at any time during the day and don't need to be warmed up or experienced. You don't have to look in any particular way or strive for anything else more than breathing deep and making it as comfortable as possible for you in the poses.
We will start the class with centring ourselves followed by breathing exercises. Then we will follow a program from my book Healing yoga. We will finish with mantra, meditation and a peaceful rest.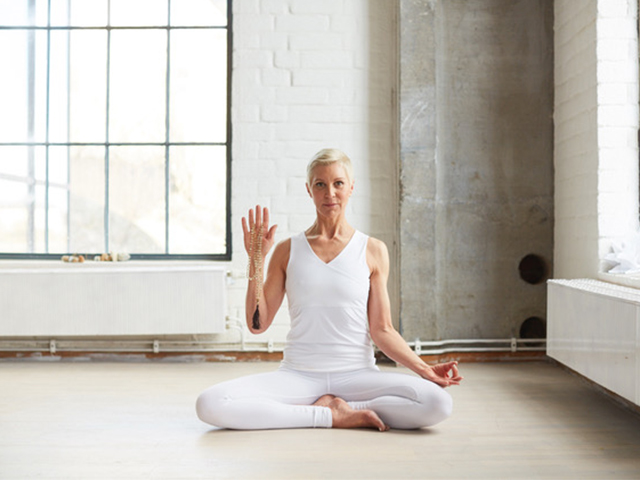 Jennie Liljefors
Jennie is a certified yoga teacher with over fifteen years of teaching experience. She teaches anusarayoga, pregnancy yoga, postnatal yoga, yinyoga and meditation.
Jennie travels around Europe giving lectures and workshops. She is a highly appreciated public speaker and works closely with organizations focusing on post traumatic stress syndrome. Jennie also works with Healing Yoga – therapeutic yoga focusing on the process of different types of trauma, both mental and physical.
In November 2017 Jennie released the appreciated book "Healing Yoga – The Healing Power", how we, with the help of yoga, can heal and work with PTSD.
Jennie ran Altromondo Yoga in Alassio in Italy for seven years before bringing the concept to Sweden. The Altromondo Yoga Studio opened its doors in 2014 at Grev Turegatan 18 in Stockholm. The word altromondo means another world in Italian, and symbolizes that the meeting with yoga is exactly that.
---
Studio Yin Helsinki – Töölö / Urheilukatu 5, 00250 Helsinki
Studio Yin Kauniainen / Tunnelitie 4, 02700 Kauniainen, Kauppakeskus Grani 2. flor
More information: info@studioyin.com
All three courses are in english, questions can be asked also in swedish
Prices: Prices: 65 € per workshop / two workshops 125 € / all three workshops 175 €